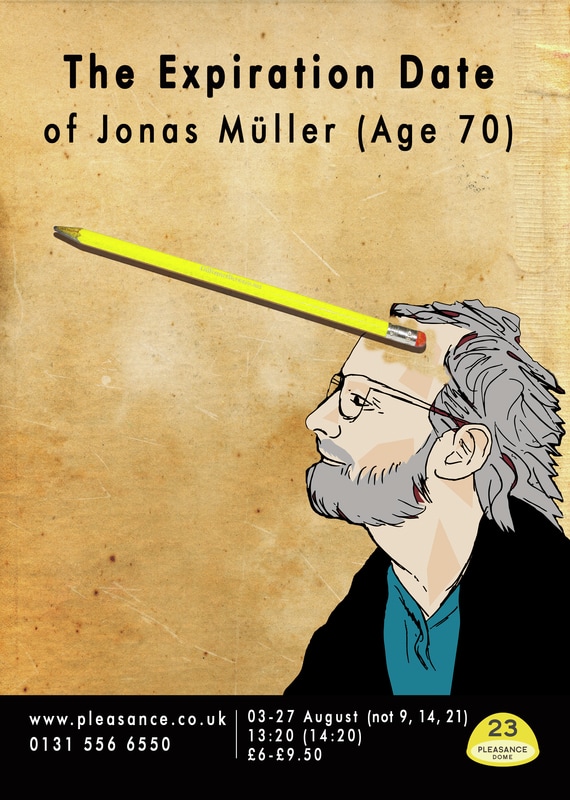 III. De Fictionele Derde                                         NL/UK

Hi! Mijn naam is Jonas Müller (26 jaar). De afgelopen jaar schreef ik theatervoorstellingen met mijn compagnon Tim. Mensen hielden van ons werk. Mensen hielden zelfs van mij. Ze schreven lieve dingen als:

"A fascinating curiosity of the Fringe. An intriguing piece of experimental theatre." – BritishTheatreGuide

"An elusive reflection on authorship and identity. A warm- hearted, poetic hour.' — The List

"He interests me and has made me wonder about the progression of theatre and how the Fringe Festival is impacting on that. A must-see." – Fringereview

Helaas vond er vorig jaar een vervelende gebeurtenis plaats…. en daardoor hebben Tim en ik elkaar sindsdien niet meer gesproken.
Ik heb deze multi person storytelling solo show geschreven om jullie te vertellen wat zich plaatsvond en wat er vervolgens gebeurde.
Ook gaat het over een oude man die ook Jonas Müller heet.

Tim zal de voorstelling moeten performen. Ik ben heel blij dat hij het script van de voorstelling pas ziet op het moment dat hij het podium op loopt….
Tim Honnef is theatermaker, schrijver en cabaretier. De Fictionele Derde is de Nederlandse premiére van het derde deel in Tim Honnef's Jonas Müller reeks dat in 2017 onder de naam The Expiration Date of Jonas Müller (age 70) in Pleasance Dome op het Edinburgh Festival Fringe in premiére ging.
De volledige Jonas Müller reeks zal, nadat de laatste voorstelling in de reeks in augustus 2020 in Edinburgh zal worden gespeeld, ook in de Nederlandse theaters worden uitgevoerd.
"Een curieuze maar ook intrigerende solo-voorstelling….een soort meta-theater waarin de gebruikelijke illusie bewust wordt doorbroken." – CultureelPersBureau
"A sweet, touching story of unrequited love; a dark confessional on obsession and an inability to deal with contemporary life; and an elusive reflection on authorship and identity (…) it's a warm-hearted, poetic hour, fragile and poignant." – The List (on: Jonas Müller Regrets Writing This F*cking Masterpiece)
"A fascinating curiosity of the Fringe and an intriguing piece of experimental theatre" – BritishTheatreGuide (on: Jonas Müller Regrets Writing This F*cking Masterpiece)
"A unique performance filled with humour and personality. Honnef interests me and has made me wonder about the progression of theatre and how the Fringe Festival is impacting on that.
A must-see." – Fringereview (on The Lonely Poet (or: The Pleonasm)